Kuli Alma
Restaurant
Israeli Restaurant | Frankfurt am Main
History
and Idea
We prepare fresh, dynamic and simple dishes that are completely free from animal harm. Our main ingredient is our love for what we do. We would like to offer you a small seed of consciousness that you are free to sow, cultivate and harvest on your way.
Notice We are still open for deliveries and take away. We offer under 069 5600 5506 daily from 5pm a own delivery service (from 20 € order value) but were also at Lieferando and Eatura to find.
Unsere Außengastronomie ist geöffnet! Die Voraussetzungen sind ein tagesaktuelles Testergebnis aus einem Testzentrum oder ein Nachweis, dass die Zweitimpfung vor mehr als 14 Tagen vollzogen wurde oder ein Nachweis, darüber dass man genesen ist, welcher nicht älter als 6 Monate sein darf.
Reservierungs-Hinweis:
Dear guests, you are welcome to reserve a table for up to 5 people via the "Quandoo" reservation portal. For a reservation from 6 people and more, we would like to ask you to contact us personally by email at: hello@kuli-alma.com or simply call us at 069-56005506.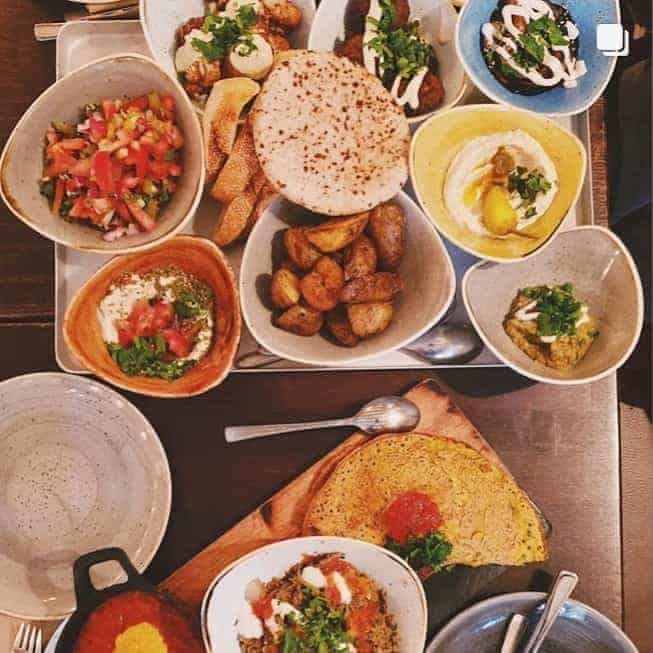 Kuli Alma
Restaurant
Israeli Restaurant | Frankfurt am Main
Our Vision
and Mission
In the course of our life on this earth, we can choose what and how we nourish ourselves on an emotional, mental and spiritual level every day. By making conscious decisions by being proactive consumers, we can not only change ourselves, but also the world around us.
Kuli Alma
Wine cellar
Israeli Restaurant | Frankfurt am Main
Customer feedback
"Innovative, oriental-inspired cuisine, large portions, lovingly arranged. Here the eye eats too. Friendly staff and a really cozy, stylish ambience. I'm particularly looking forward to the beautiful veranda for sitting outside in summer. "

Elly at Facebook
Kuli Alma
Israeli Restaurant | Frankfurt am Main
"We had a wonderful evening in Kuli Alma, with delicious food, great service and a host who cares about the well-being of his guests."

Kuli Alma, Israeli and vegan restaurant, Guest

Kuli Alma
Israeli Restaurant | Frankfurt am Main
"Really delicious food! We can only recommend it! The restaurant is very friendly and the chef is a genius! You have to test it when you are in Frankfurt and don't forget to order the chocolate mousse with berry dessert! It tastes amazing!"

Thomas at Facebook
Kuli Alma
Israeli Restaurant | Frankfurt am Main
Our opening times:
Montag bis Samstag 12:00 – 23:00
Sonntag: 12:00 – 22:00
hello@kuli-alma.com
Phone 1: +49 (0) 69 5600 5506
Phone 2: +49 (0) 69 5600 5507
Directions / address / location:
Zum Jungen Straße 10, 60320 Frankfurt am Main
Our recommendation: You can also visit the "Zeil Kitchen" and "Moby Vegan Streetfood" at Zeil 92 in 60313 Frankfurt am Main as well as the "Dominion Food Revolution" Restaurant at Grüneburgweg 41–43 in 60322 Frankfurt am Main.
Kuli Alma on Facebook and Instagram
Friends: Aleksandra-Keleman.de